06/10/2016
| | |
| --- | --- |
| WATCH THE FULL SPEECH HERE | Donald Trump on Friday said that he would defend religious liberty and "restore the rule of law" if he were elected president in a speech to the Faith and Freedom Coalition in Washington. "Freedom of any kind means no one should be judged by their race or their color or the color of their skin." Trump told the coalition's annual conference ""We will restore respect for people of faith who judiciously raise their children, follow our laws and rules," Trump said. "We have to take care of our neighbors, because right now our neighbors are not being taken care of." and "We have to restore the rule of law — on our border, in our government, no matter where it is. It has to be restored." He also declared that "we will protect the right of churches to speak their minds on political matters without intimidation." |
---
VIDEO SOURCE: LIVE Broadcasting Of Donald Trump Speech & Rally - YouTube
Published om June 10, 2016
FULL SPEECH: Donald Trump speaks at Faith and Freedom Coalition Conference
---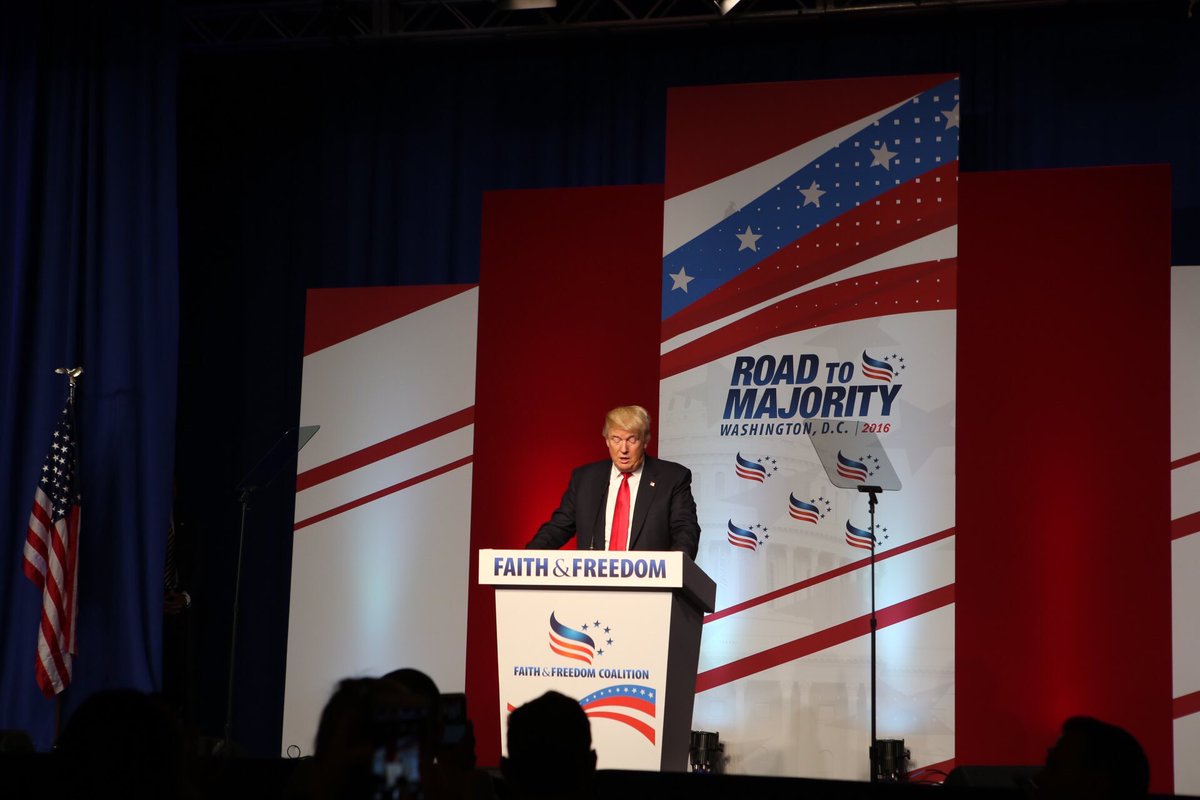 FaithandFreedom Coalition
Donald Trump on Friday said that he would defend religious liberty and "restore the rule of law" if he were elected president in a speech to the Faith and Freedom Coalition in Washington. "Freedom of any kind means no one should be judged by their race or their color or the color of their skin." Trump told the coalition's annual conference ""We will restore respect for people of faith who judiciously raise their children, follow our laws and rules," Trump said. "We have to take care of our neighbors, because right now our neighbors are not being taken care of." and "We have to restore the rule of law — on our border, in our government, no matter where it is. It has to be restored." He also declared that "we will protect the right of churches to speak their minds on political matters without intimidation."
---
GETTY IMAGES
---
LOCAL HEADLINES
vagazette - Trump stops in Williamsburg ahead of Richmond rally
His motorcade of six SUVs, escorted by Virginia State Police and Williamsburg police, arrived at the Colonial Williamsburg Inn a little after 5.
---
wsj - Donald Trump Reaches Out to Evangelicals, Promising Antiabortion Judicial Nominees
Donald Trump Friday pledged to nominate antiabortion justices to the Supreme Court and to protect Christians' religious freedom in a carefully scripted speech to leading evangelical activists.
---
abc - Donald Trump Tells Faith Group 'No One Should Be Judged by Their Race'
Presumptive Republican presidential nominee Donald Trump today spoke to a group of Christian conservatives, telling them "no one should be judged by their race or their color."
---
nbc - Trump Strikes Different Tone After GOP Backlash
Facing continued backlash for calling a judge biased because of his Mexican heritage, Donald Trump sounded a softer note on Friday, telling a major gathering of social conservatives that "no one should be judged by their race or their color."
---
fox - Trump, Clinton clash in dueling DC speeches
Donald Trump and Hillary Clinton, now at the starting line of a general election race, traded shots across the capital Friday in dueling addresses before two very different D.C. audiences -- each warning the other would take the country backward. 
---
cnn - Trump: 'No one should be judged by their race or their color'
Donald Trump, who ignited an uproar by attacking a judge as biased on the basis of his Mexican heritage, said Friday in a speech to evangelical voters that he believes "no one should be judged by their race or their color."
---
herald - GOP insiders pressure Trump to steer clear of controversy
Weary Republicans are looking for assurances that Donald Trump can maintain the discipline needed to stay on message as he prepares for a bruising general election run-up against Hillary Clinton.
---
breitbart - Donald Trump: Hillary Clinton's Refusal to say Radical Islam 'Makes Her Unfit to be President'
Presumptive Republican nominee Donald Trump tells conservative activists at the "Road to Majority" conference in Washington, D.C. he's ready to chart an optimistic path for America.
---
washingtonpost - The Faith and Freedom summit should defend both from Trump
Later today, Donald Trump is to speak to thousands of evangelicals at the Faith and Freedom Coalition's summit in Washington. It will be quite a moment of testing, mostly for the religious conservatives in attendance and who make up the million-person grassroots organization.
---
huffingtonpost - Donald Trump Tells Religious Conservatives He's Their Guy
Presumptive Republican presidential nominee Donald Trumpmade a pointed but subdued appeal Friday to religious conservatives, a group he has struggled to win over in the past.
---
SHORT VIDEO
Protesters Trump Faith + Freedom
Trump: Protesters were 'sent here by the other party, believe me'
Paid Protesters By Hillary Pop Up Right After Trump Starts Talking About Crooked Hillary Clinton!
Donald Trump hits Clinton on emails, 2nd amendment
Donald Trump Thanks Christian Leaders; disquse goals
---
TWEETS
Thank you @FaithandFreedom Coalition! An honor joining you today- to discuss our shared values.#RTM2016 #Trump2016 pic.twitter.com/Ye6IhOW6ZM

— Donald J. Trump (@realDonaldTrump) June 10, 2016
.@realDonaldTrump will address #RTM2016 momentarily. Stay tuned!

— Faith & Freedom (@FaithandFreedom) June 10, 2016
LIVE: #Trump speaks at @FaithandFreedom Coalition in D.C. - 1st time since scripted remarks. https://t.co/BqO4SKhMza pic.twitter.com/mJ9pTgC58B

— CNNgo (@CNNgo) June 10, 2016
Donald Trump addresses the @FaithandFreedom – LIVE on C-SPAN3 https://t.co/y6bAg8iU25 #RTM2016 pic.twitter.com/6zNdEPsHFR

— CSPAN (@cspan) June 10, 2016
Marriage and family are the building block of happiness and success. @realDonaldTrump #RTM2016

— Faith & Freedom (@FaithandFreedom) June 10, 2016
It's an honor to be here today to discuss our shared values. @realDonaldTrump #RTM2016 pic.twitter.com/WTjX1kOEvv

— Faith & Freedom (@FaithandFreedom) June 10, 2016
Keeping people of faith safe - all of us need to confront the threat of radical Islam. @realDonaldTrump #RTM2016

— Faith & Freedom (@FaithandFreedom) June 10, 2016
Religious freedom - the right of people to freely practice their faith - is so important. @realDonaldTrump #RTM2016

— Faith & Freedom (@FaithandFreedom) June 10, 2016
We need to take care of our neighbors. We need to restore the rule of law. @realDonaldTrump #RTM2016

— Faith & Freedom (@FaithandFreedom) June 10, 2016
Hillary Clinton has jeopardized national security. @realDonaldTrump #RTM2016

— Faith & Freedom (@FaithandFreedom) June 10, 2016
We will chart a new optimistic course for America. @realDonaldTrump #RTM2016

— Faith & Freedom (@FaithandFreedom) June 10, 2016
We will respect and defend Christian Americans. We will work together to restore everyone. @realDonaldTrump #RTM2016

— Faith & Freedom (@FaithandFreedom) June 10, 2016
---
TRANSCRIPT
##