09/11/2016
| | |
| --- | --- |
| WATCH THE FULL CONFERENCE HERE | Donald Trump appeared at the event alongside supporters including New Jersey Governor Chris Christie and Rudy Giuliani. Trump and Clinton were about 20 feet apart from one another before Democratic presidential candidate Hillary Clinton left a 9/11 memorial ceremony early for what several reports have dubbed a medical episode. A bystander's video showing Clinton appearing to stumble as she was helped into a black van by aides and Secret Service agents. A second video appears to corroborate an early report from Fox News's Rick Leventhal that Clinton lost a shoe during her departure. Clinton's security team drove her to her daughter Chelsea Clinton's apartment in Manhattan, where she later emerged. |
---
Donald Trump
VIDEO SOURCE: CHANNEL90seconds newscom - YouTube
Published on Sep 11, 2016
Discription
---
World Trade Center
VIDEO SOURCE: PBS NewsHour - YouTube
Published on Sep 11, 2016
15 years after terrorists struck New York, Pennsylvania and Washington, D.C., family members, friends and officials gather to commemorate the anniversary.
---
Flight 93
VIDEO SOURCE: WTAE-TV Pittsburgh - YouTube
Published on Sep 11, 2016
The 40 passengers and crew members of a plane that crashed in Shanksville after it was hijacked during the September 11 terror attacks have been honored with a reading of names and tolling of bells.
---
Pentagon
VIDEO SOURCE: LIVE Hillary Clinton Speeches & Events - YouTube
Published on Sep 11, 2016
Mr. Obama will attend and deliver a statement at the Memorial Observance Ceremony at pentagon in Arlington, Virginia to honor the memory of those who lost their lives in 9/11 incident in 2001
---
Hillary Clinton Leaves 9/11 Memorial Ceremony Early, Dragged into Van
Follow Breitbart News for livewire coverage of Sunday's 9/11 remembrances. This morning in New York City, Democratic presidential candidate Hillary Clinton left a 9/11 memorial ceremony early for what several reports have dubbed a medical episode.
---
Security Drags Hillary Clinton into Van After Exit from 9/11 Memorial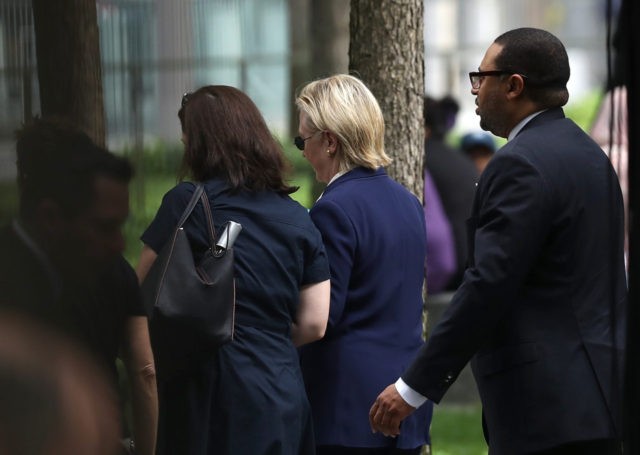 Zedek Gazda, a New Jersey resident present in New York City Sunday morning, captured video of Hillary Clinton's security detail lifting her into a van after she left a 9/11 memorial ceremony early.
Hillary Clinton 9/11 NYC pic.twitter.com/q9YnsjTxss

— Zdenek Gazda (@zgazda66) September 11, 2016
Radio host John Cardillo soon posted a second angle of the event.
This IS NOT heat related. #HillarysHealth pic.twitter.com/PFNfCEVFrV

— John Cardillo (@johncardillo) September 11, 2016
The second video appears to corroborate an early report from Fox News's Rick Leventhal that Clinton lost a shoe during her departure.
MORE ON #HILLARY per witness: "unexpected early departure"; she stumbled off curb, "knees buckled", lost a shoe as she was helped into van

— RickLeventhalFoxNews (@RickLeventhal) September 11, 2016
Clinton's security team drove her to her daughter Chelsea Clinton's apartment in Manhattan, where she emerged later, walking and talking to reporters. She has reportedly left for Chappaqua, NY without her press detail.
A statement from the Clinton campaign said that she "felt overheated."
"Secretary Clinton attended the September 11th Commemoration Ceremony for just an hour and thirty minutes this morning to pay her respects and greet some of the families of the fallen," spokesman Nick Merrill said. "During the ceremony, she felt overheated so departed to go to her daughter's apartment, and is feeling much better."
---
GETTY IMAGES
---