10/04/2016
| | |
| --- | --- |
| WATCH THE FULL RALLY HERE | Donald Trump kicked off his final push for the presidency on Friday in New Hampshire, where a packed audience of about 1,000 gathered to hear their candidate at the Atkinson Country Club. Trump cited a new CBS News story revealing that some of the State Department emails, among the 650,000 found by the FBI on Anthony Weiner's laptop, were not previously seen by authorities. "She said she gave 'em all in, right?" he asked, rhetorically. Given the new discoveries, he added, she had probably committed "perjury." And America, he said, was tired of Clinton crises. "All she had to do was follow the rules… And for what? … She'll be under investigation for years, she'll be with trials .. If she were to win, it would create an unprecedented constitutional crisis." Trump spoke about the upcoming "massive double-digit premium spike" in Obamacare, He also cited Friday's October unemployment report, noting that 425,000 people had left the labor force. He recalled his victory in the primary. The newspapers, he said, had written: "It looks like trump could lose New Hampshire." He won in a "landslide," he recalled. Trump then spoke about heroin and drug addiction, speaking of the impact the stories of New Hampshire residents had on him. Trump went on to pledge to protect New Hampshire's environment. And he hit the anti-terror theme he has repeated throughout the campaign: "We're going to keep radical Islamic terrorist's the hell out of our country." |
---
VIDEO SOURCE: ALL DONALD TRUMP SPEECHES & RALLIES 2016 - YouTube
---
Trump to New Hampshire: 'We're Gonna Save Ourselves'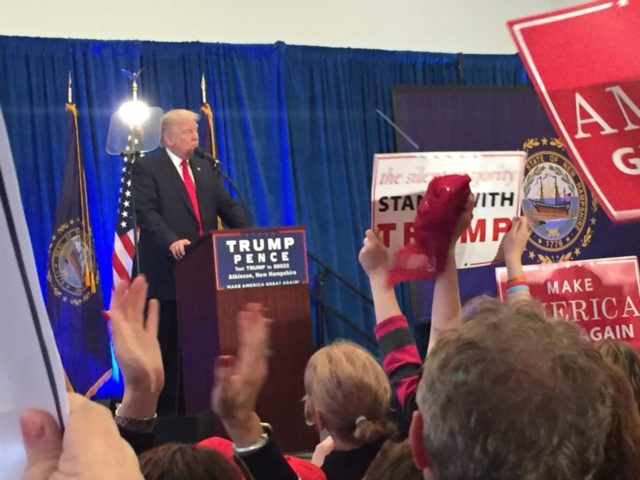 Trump cited a new CBS News story revealing that some of the State Department emails, among the 650,000 found by the FBI on Anthony Weiner's laptop, were not previously seen by authorities.
"She said she gave 'em all in, right?" he asked, rhetorically. Given the new discoveries, he added, she had probably committed "perjury."
"All she had to do was follow the rules… And for what? … She'll be under investigation for years, she'll be with trials .. If she were to win, it would create an unprecedented constitutional crisis."
And America, he said, was tired of Clinton crises.
Trump also spoke about the upcoming "massive double-digit premium spike" in Obamacare across
And he pledged to "drain the swamp" of corruption in Washington.
Panoramic shot of crowded #Trump rally in #Atkinson #NewHampshire - at least 1,000 packed into hall, wall to wall pic.twitter.com/Zuj04fOTrt

— Joel B. Pollak (@joelpollak) November 4, 2016
Trump cited Friday's October unemployment report, noting that 425,000 people had left the labor force.
He slammed NAFTA and the awarding of Most Favored Nation status to China, both of which occurred during President Bill Clinton's administration, blaming them for the loss of one in four manufacturing jobs.
He recalled his victory in the primary. The newspapers, he said, had written: "It looks like trump could lose New Hampshire." He won in a "landslide," he recalled.
Trump then spoke about heroin and drug addiction, speaking of the impact the stories of New Hampshire residents had on him.
He departed from the prepared text on the TelePrompTer as he spoke about those stories — which he has often mentioned at other stops on the campaign trail, in other states.
A man called out: "Save us!"
Trump responded: "We're gonna save ourselves."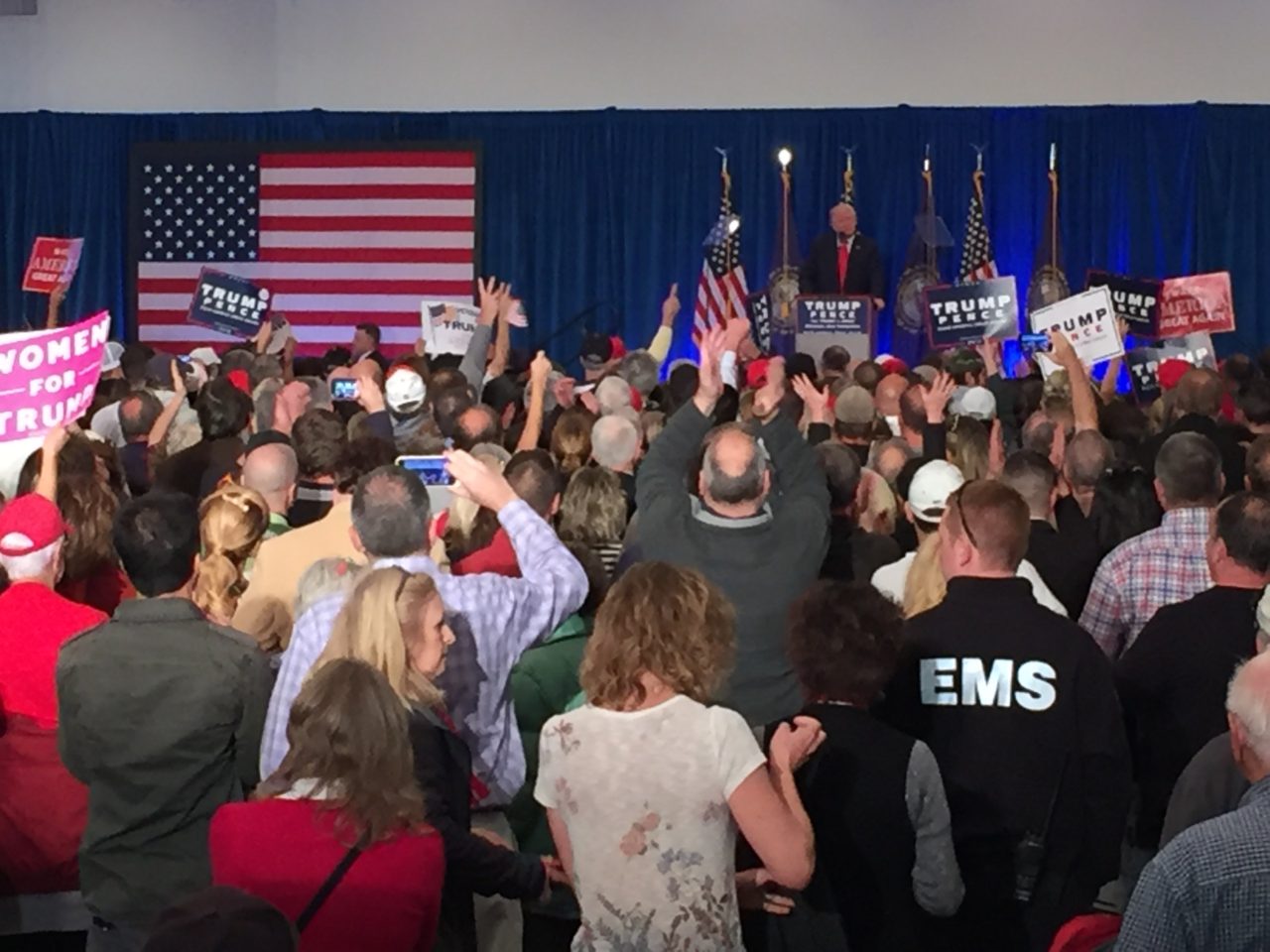 Trump went on to pledge to protect New Hampshire's environment. And he hit the anti-terror theme he has repeated throughout the campaign: "We're going to keep radical Islamic terrorist's the hell out of our country."
When he discussed his proposal to establish "safe zones" for Syrian refugees in the Middle Easy, rather than bringing them to the U.S., a man shouted: "Send Hillary Clinton to one!"
Trump joked that the press would focus on that remark.
Before Trump spoke, Kate Quigley, sister of Benghazi hero Glen Doherty, addressed the audience, who listened to her story in rapt, and even tearful, silence.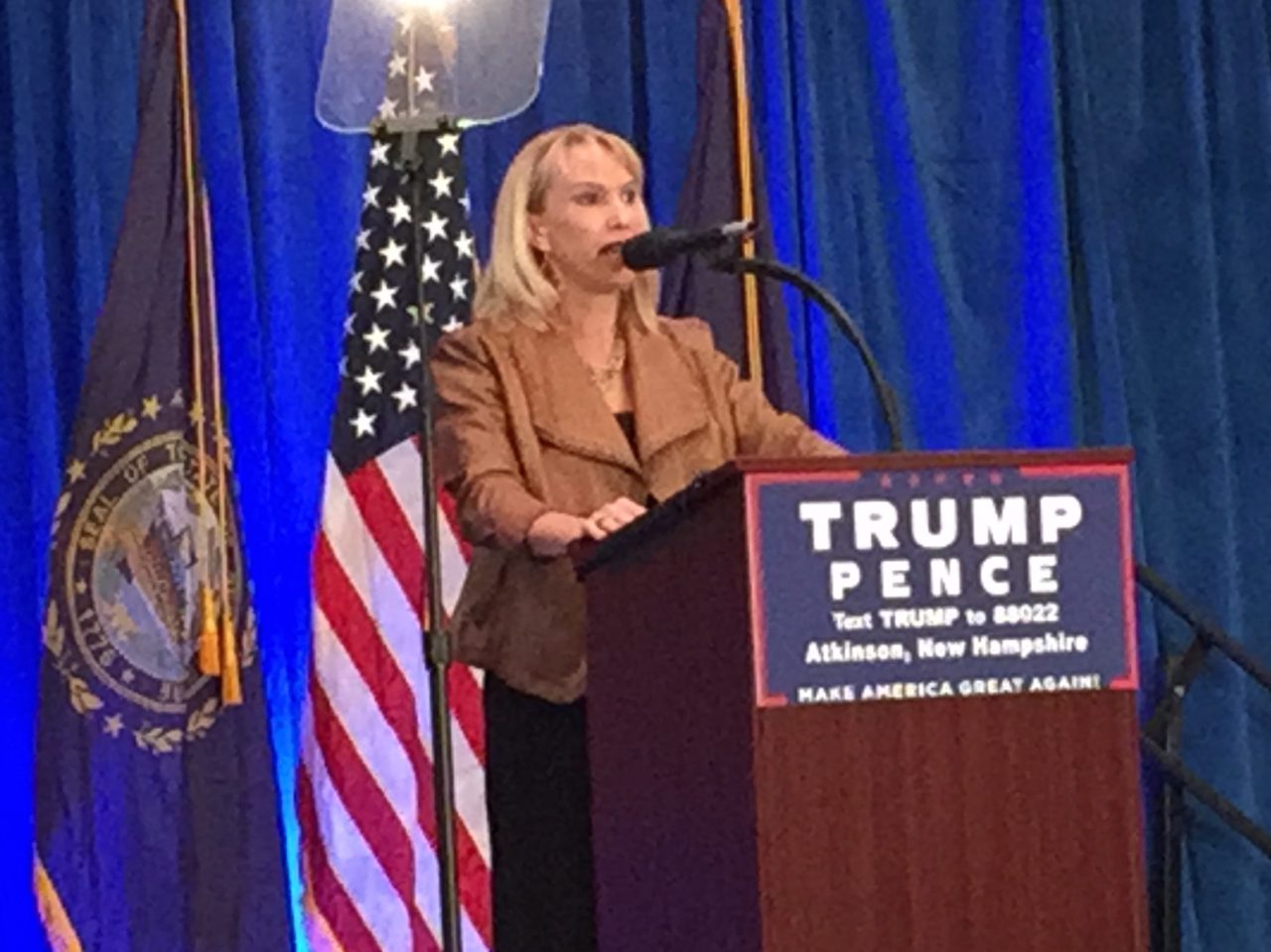 She spoke about how Hillary Clinton had told her family that a YouTube video was responsible for the attack, and how the only person at the memorial who told the truth to her about the attack was the Libyan ambassador to the U.S.
Audience listens, rapt & tearful, as sister of #Benghazi hero Doherty talks to #Trump rally #Atkinson #NewHampshire pic.twitter.com/z2828EQAQH

— Joel B. Pollak (@joelpollak) November 4, 2016
Kathleen Healey-Tilton of Salem, New Hampshire, told Breitbart News that she expected Trump to win the state, not only because he is leading in recent polls, but because "some people will not answer survey questions," and because voters in general were fed up with both parties.
"I want him to go in there and blow up all the corruption, not just on the Democratic side." She said she thought Trump's recent push for term limits in Congress was "awesome."
After Quigley, Former Sen. Bob Smith (R-NH) warmed up the audience, entertaining them with a dead-on impression of Bill Clinton endorsing Trump.
"If Hillary goes to prison, I'll be free as a bird!" he laughed.
Next was former governor John Sununu, who addressed the Trump rally last week in Manchester just before the FBI's decision to re-open the investigation into Hillary Clinton became known.
Sununu recalled that moment, telling the audience that there would not be a "smoking gun" in the investigation before the election, but that the news "ripped the scab" off the truth that thanks to the Clintons, "the Democratic Party has been infused with a culture of corruption for the last 25 years."
He said that Trump supporters should reach out to supporters of Sen. Bernie Sanders (I-VT) on that basis:
"Corruption cost Bernie the nomination, and its up to us to tell his supporters they're out of their minds if they vote for Hillary Clinton."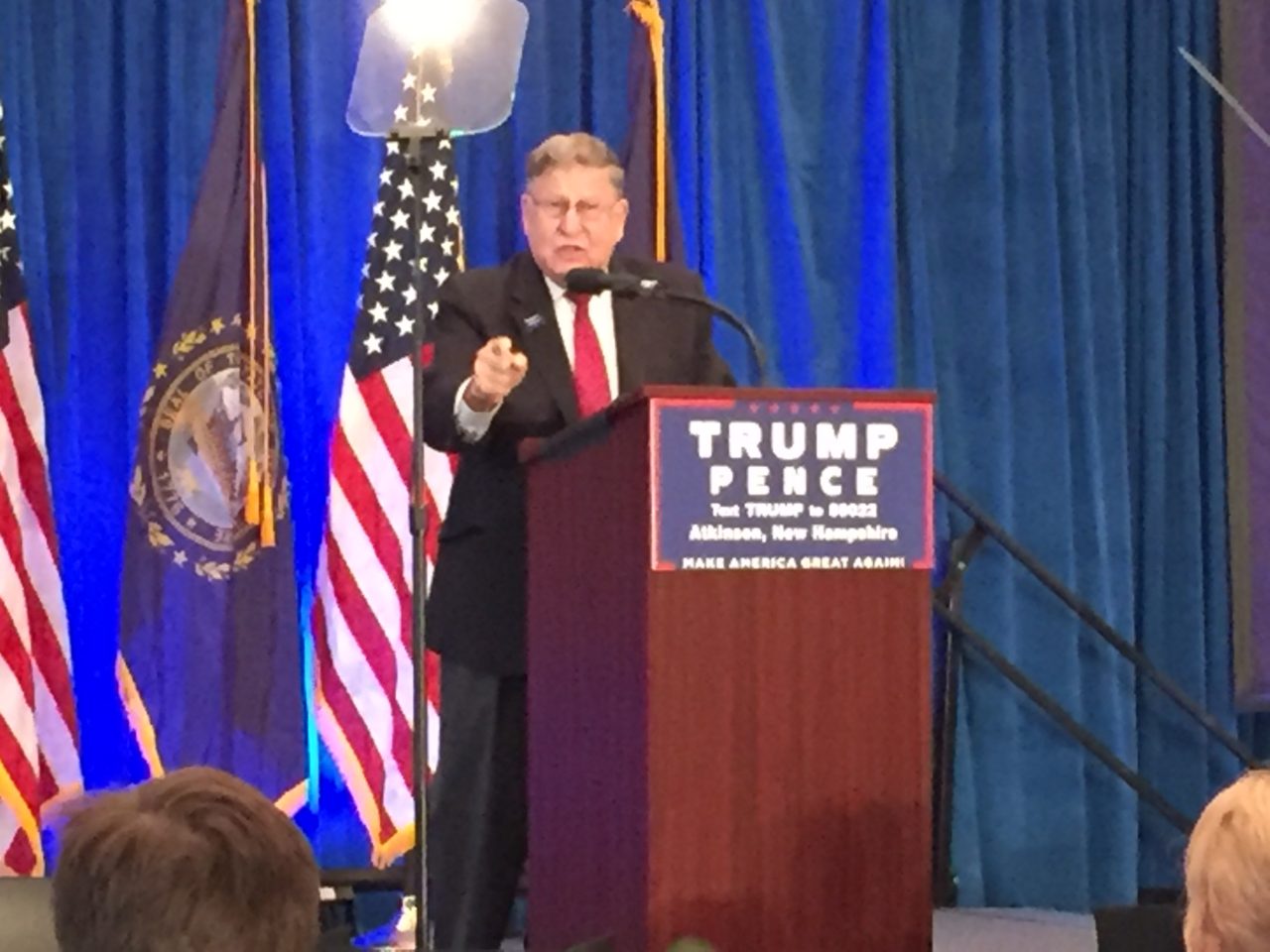 Sununu, a member of the Bush family circle and a prominent surrogate for Mitt Romney in 2012, also explained why he became a Trump supporter after opposing him.
"How can you support Donald trump after giving him a hard during the primary? The answer is: Hillary Clinton makes it damned easy."
As some chanted, "Lock her up," one man shouted: "Execute her." Sununu interrupted his remarks to rebuke the man, who protested: "For treason." Sununu repeated his rebuke, and continued with his speech.
Hillary Clinton "will continue the Obama-inspired slide to socialism," Sununu said.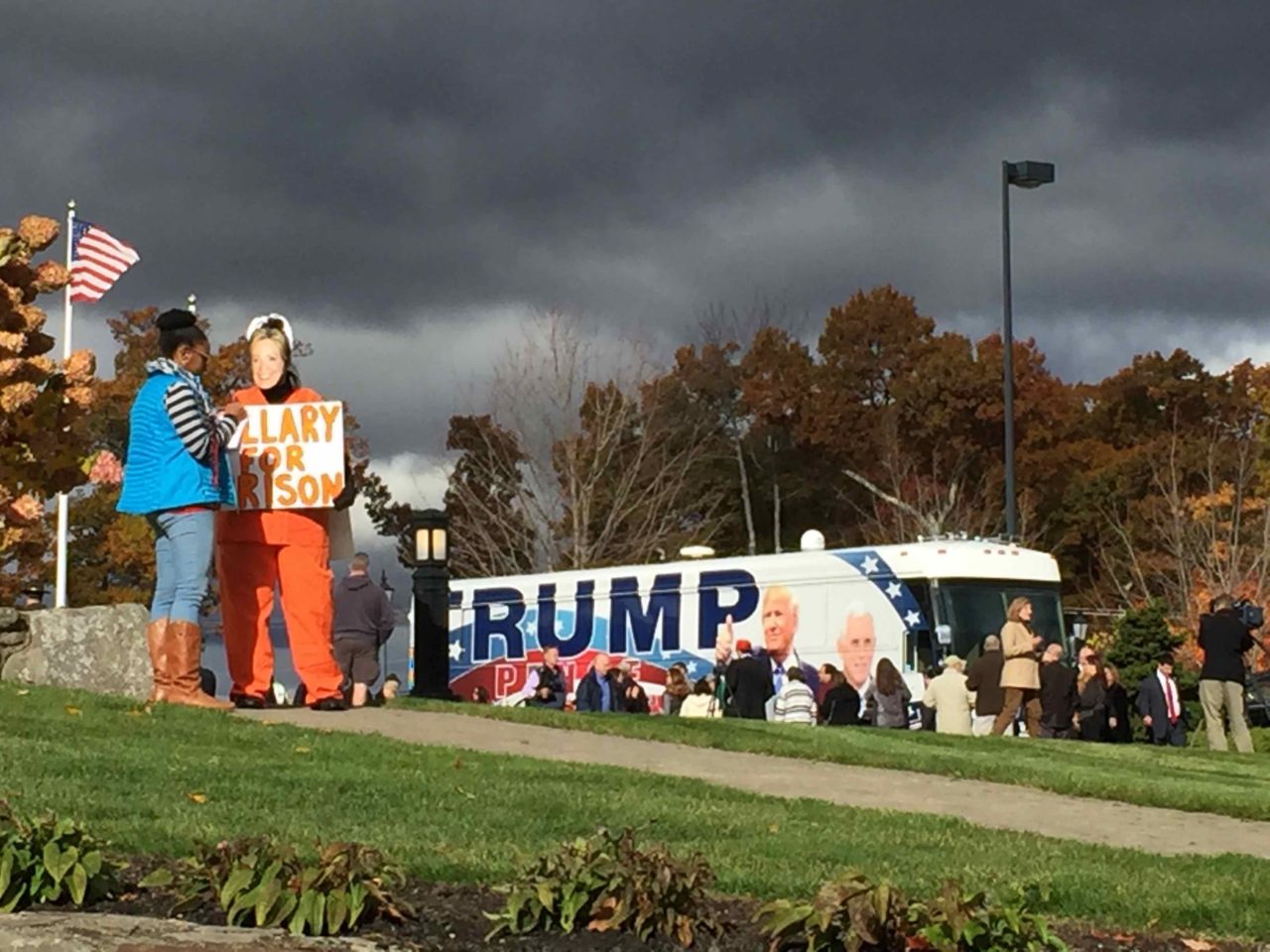 Mike, from Sandown, called the election "the most important in my lifetime." He said he was hopeful Trump would win, since he had more votes than anyone in the history of the New Hampshire primary.
Steve Lewis, of Rochester, said the most important issue for him was the state of Veterans Affairs (VA) hospitals.
"The VA is worse than it's ever been," he said.
"I get a kick watching people who wanted Obamacare. It's the same as we've been living with … they don't give a crap if you live or die."
Asked whether he was afraid, as Hillary Clinton says, that Trump would privatize the VA, he said: "No, that's what we need."
A string of recent polls has Trump tied with, or slightly ahead of, Clinton in the Granite State.
The Trump campaign will visit several more states Friday, ahead of a busy travel and campaign weekend.
Joel B. Pollak is Senior Editor-at-Large at Breitbart News. His new book, See No Evil: 19 Hard Truths the Left Can't Handle, is available from Regnery through Amazon. Follow him on Twitter at @joelpollak.
---
GETTY IMAGES
---
Here's crowd at Trump rally in Atkinson, NH. Substantial number are from Massachusetts. #NHPolitics pic.twitter.com/JNPyPgqtlR

— David Bienick (@BienickWCVB) November 4, 2016
---