11/05/2016
| | |
| --- | --- |
| WATCH THE FULL SPEECH HERE | During his appearance at the Florida State Fairgrounds in Tampa on Saturday, he made overtures about winning the Sunshine State, defeating terrorism, criticizing the media. "I'm asking for your vote so we can repeal and replace Obamacare and save healthcare for every family in Florida." Trump said. "Real change means restoring honesty to our government." Trump said. "My Contract With The American Voter begins with a plan to end government corruption – and to take back our country from the special interests." Trump said. "I want the entire corrupt Washington establishment to hear the words we are all about to say. When we win on November 8th, We Are Going To DRAIN THE SWAMP." Trump said. "At the core of my contract is my plan to bring back our jobs. A Trump Administration will stop the jobs from leaving America, and we will stop the jobs from leaving Florida. The theft of American prosperity will end." Trump said. "If a company wants to fire their workers, leave Florida, move to another country, and then ship their products back into the United States, we will make them pay a 35% tax. On NAFTA Trump said "A Trump Administration will renegotiate NAFTA and, if we don't get the deal we want, we will terminate NAFTA and get a much better deal for our workers. We will also immediately stop the job-killing Trans-Pacific Partnership." Trump said he will lower taxes. "As part of our plan to bring back jobs, we are going to lower taxes on American business from 35 percent to 15 percent. We will massively cut taxes for the middle class." On global warming Trump said. "We will also cancel billions in global warming payments to the United Nations, and use that money to invest in America. That includes repairing Florida's Herbert Hoover Dike and the Florida Aquifer, and protecting the Everglades. In closing Trump said. "We will also rebuild our inner cities. We will become a rich nation once again." |
---
VIDEO SOURCE: ALL DONALD TRUMP SPEECHES & RALLIES 2016 - YouTube
---
Trump in Tampa: Vows FL Win, Promises to 'Keep Radical Islamic Terrorists the Hell Out of Our Country'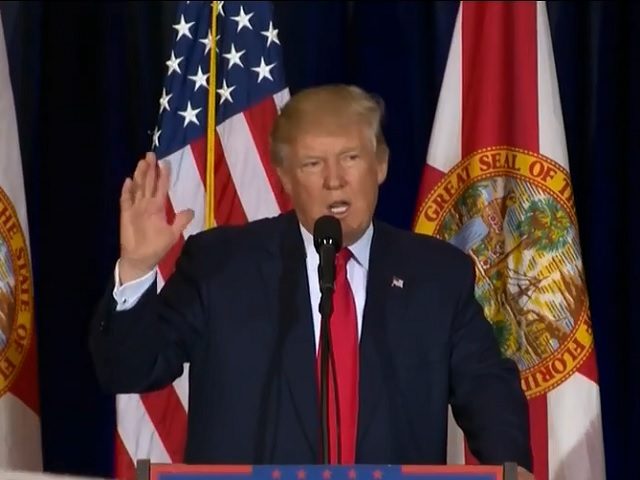 During his appearance at the Florida State Fairgrounds, he made overtures about winning the Sunshine State, defeating terrorism, criticizing the media.
While the event was added to Trump's calendar at the last minute and started early on Saturday, the GOP nominee still drew several thousand attendees. Late last month, he drew an estimated crowd of 20,000 at the MidFlorida Amphitheatre – adjacent to Saturday's venue.

Trump kicked off his rally by taking a dig at Hillary Clinton – jabbing her for last night's rally she held that included a performance by Beyoncé and Jay Z.
"We don't need Jay Z to fill up the arena," he said. "We do it the old fashion way. We do it the old fashion way, folks. We fill it up because you love what we are saying and you want to make America great again. That's about it."
"And I actually like Jay Z but you know the language last night — ooooh, ooooh," he continued. "I was thinking maybe I will just try it. Can you imagine if I used that language about one of them? Can you imagine if I said? He used every word in the book. I won't use the initials because I will get in trouble. They'll get me in trouble. He used every word in the book last night."
The GOP nominee vowed he would win Florida and touted his previous success in the Sunshine State. He reminded rallygoers of his dominance in last March's Republican presidential preference primary, taking 66 of 67 counties with the lone exception being Sen. Marco Rubio's home county of Miami-Dade.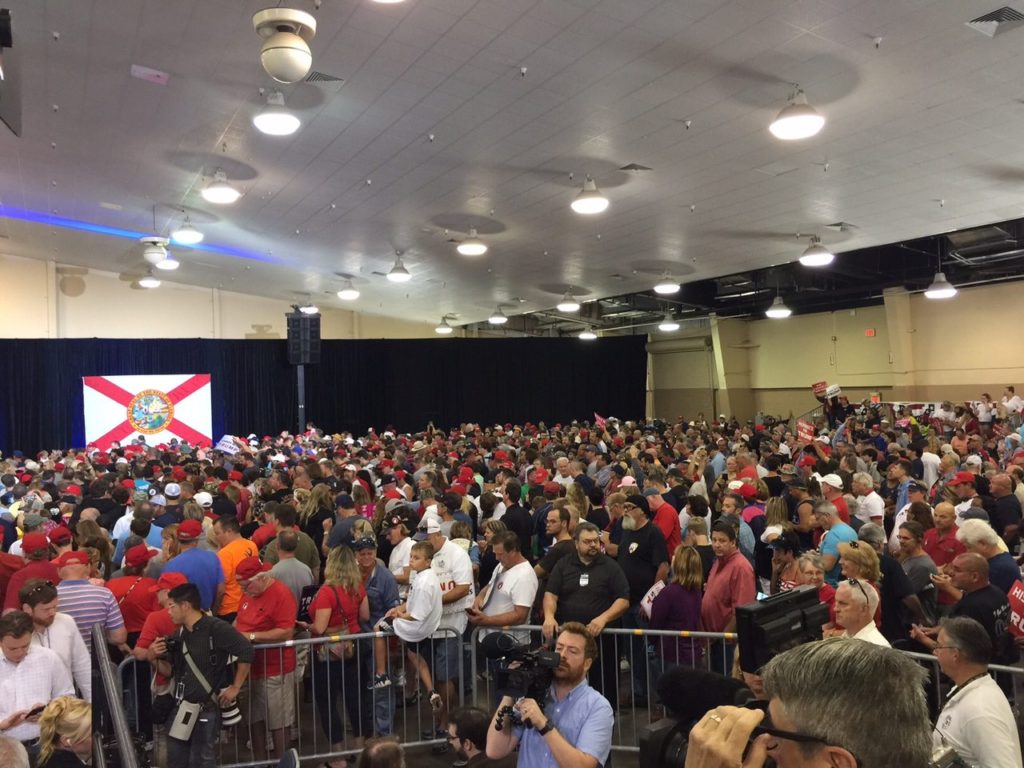 After mocking Clinton for her inability to maintain the pace he has in these closing days of the campaign, Trump drew one of his loudest applauses when he pledged to end the Syrian refugee program and "keep radical Islamic terrorists the hell out of our country."
"We will become a rich nation again," he declared. "But to be a rich nation, we must also be a safe nation. Hillary Clinton wants a 550 percent increase in Syrian refugees pouring into this country, over and above the thousands and thousands and thousands that are already coming in. You want to see a problem? This will be the great Trojan Horse – modern day version. Her plan will import extremism and radicalism into your schools and throughout your communities. When I'm elected president, we will suspend immediately the Syrian refugee program and we will keep radical Islamic terrorists the hell out of our country."
Trump took aim at the media — a regular target at his rallies – and told his audience he would "sit down with the dishonest media."
"Our country has never been in a situation like it is in right," Trump said. "So dishonest, it is a rigged system, folks. I have been saying it. It is a rigged system and it begins with the media because the media rigs it. Did you see all those reports with The New York Times where The New York Times are sending them things? They're saying — listen, we got this reporter essentially, 100 percent, this is friendly stuff. Where other reporters are sending them stories to check. Do you have any change in? That's never happened to me. Man, I actually used to get good publicity until I decided to run. Now, I think I have –one of the writers of the Times, we don't care if it is fair or not. It is the greatest pile on in the history of politics and that's OK. I used to be on the other side. Don't forget, I did very well. But I also love our country and it was time, it was time. We had to do something. But that is a big part of the rigged system.
Another highlight of Saturday's event included Trump bringing a baby from the crowd up on stage with him and showing the baby off as "an early Trump fan.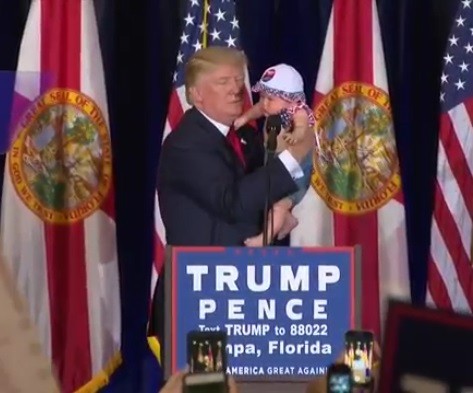 "Look at this baby," Trump said to the crowd. "They did a great job, wow. That is a great, beautiful baby, congratulations. That's an early Trump fan, right?"
Saturday's visit to Hillsborough County in the Sunshine State comes just two before Election Day. On Monday morning, Trump visits Sarasota in Manatee County 50 miles south of today's venue.
Later Saturday, Clinton will pay a visit on the other side of the Florida peninsula in Broward County's Pembroke Pines. Turnout in heavily Democrat Broward County will be essential for Clinton's success. Indeed this is her second appearance in Broward County in less than week.
The battle for Florida's 29 electoral votes remains in the toss-up column  and Hillsborough County will be pivotal in Tuesday's outcome. As has this county has gone in the previous four presidential elections, so has the presidency, with it going for George W. Bush in 2000 and 2004 and for Barack Obama in 2008 and 2012.
Follow Jeff Poor on Twitter @jeff_poor
---
At Tampa rally, Donald Trump promises he'll win Florida
TAMPA - Donald Trump promised a win in Florida at a rally Saturday morning, vowing to "drain the swamp" of Washington and bring back manufacturing jobs while lashing out at Hillary Clinton over her use of emails.
"We don't need Jay Z to fill up arenas," Trump said, referring to the hip hop star's appearance with Clinton Friday night in Cleveland, part of her blitz through key states with celebrities and high-profile politicians.
"We do it the old-fashioned way. We fill it up because you love what we're saying and you want to make America great again," Trump said.
"It is time for change, it is time for new leadership," Trump declared. "Hillary Clinton is the candidate of yesterday. We are the movement of the future. And they've ever seen a movement like this. … and we have to close it out on Nov. 8 or sooner."
He appeared before a crowd of several thousand, though the rally was put together with short notice. Trump accused the "lying, thieving media" of downplaying the size of his audiences and his standing in key states.
"Oh, I love those signs, blacks for Trump," he suddenly interjected. "That seems to be the big surprise so far of this election — blacks for Trump."
Trump went on at length about crowd sizes and polls before vowing to "repeal and replace Obamacare." He highlighted renewed questions about Clinton's emails, saying it showed she has poor judgment.
"Can you imagine, Anthony Weiner has possibly every classified email ever sent?" Trump asked, throwing in a bawdy joke that Weiner likely read them all "in between using his machine for other purposes."
He pledged to end a Syrian refugee program, asserting the move would prevent "generations of terrorism" from taking root in the United States. "We will keep radical Islamic terrorists the hell out of our country," he said to roars.
Trump said Clinton would raise taxes. He pledged to prevent implementation of the Trans-Pacific Partnership, the multi-nation trade deal, and said he would ensure clean air and water, rebuild infrastructure and make inner cities safer.
"The African-American community has been treated terribly, terribly," Trump said, again vowing to bring back jobs. "What the hell do you have to lose?" Trump said to black voters, who have been slow to turn out for Clinton.
Clinton has already drawn strong support from Hispanics in Florida, giving her campaign confidence she can win.
Still, Florida remains unpredictable.
"As Hillsborough County goes, so goes the state of Florida," said U.S. Rep. Dennis Ross, R-Lakeland, one of the warm-up speakers.
Clinton will be in Pembroke Pines at 1 p.m., with the same mission: To drive her supporters to the polls and persuade undecided voters — that rare and coveted species — to get behind her. Her running mate, Tim Kaine, has three stops across the state, including a get-out-the-vote concert at the State Theatre in St. Petersburg with Jon Bon Jovi.
The candidates have traded leads in Florida polls in the past two weeks, Trump inching ahead on the back of revived questions about Clinton's email practices. Now, the RealClearPolitics.com average of polls shows Clinton with a marginal edge.
"He's going to win," declared Gary Manning, 62, of Tampa, among several thousand who showed up for the rally. "How many corrupt deals and lies does a politician have to tell before you just say no? No mas."
The long, divisive election has taken a toll.
"I'll be glad when it's over. Just trying to watch TV is exhausting. Anything on my tablet is coming up with commercials. I'm battered by it," said Pam Wood, 27, of Riverview, an independent voter supporting Trump.
"I just want it to go away."
---
GETTY IMAGES
---
First campaign stop of the day - Trump takes the stage in Tampa, Florida pic.twitter.com/XC9hgN9L07

— Chris Snyder (@ChrisSnyderFox) November 5, 2016
---
IN TAMPA, TRUMP CALLS FOR CHANGE AND NEW LEADERSHIP
**Remarks As Prepared**

In 3 days, we are going to win the Great State of Florida and we are going to win back the White House.
Real change begins with immediately repealing and replacing Obamacare.

It's just been announced that the residents of Florida are going to experience massive double-digit premium hikes. In the great state of Arizona, premiums are going up more than 116%.
Over 90% of the counties in Florida are losing Obamacare insurers next year.
Premiums are surging, companies are leaving, insurers are fleeing, doctors are quitting, and deductibles are through the roof.
Yet Hillary Clinton wants to double-down on Obamacare, making it even more expensive.
I'm asking for your vote so we can repeal and replace Obamacare and save healthcare for every family in Florida.
Real change also means restoring honesty to our government.
As you know, the FBI has reopened its criminal investigation into Hillary Clinton.
They are also conducting a second criminal investigation into Hillary Clinton's Pay-For-Play corruption at the State Department.
It has been confirmed that the 650,000 emails they discovered include brand new emails not previously turned over to authorities, likely including even more classified information.
However, the reports also show that the political leadership at the Department of Justice is trying as hard as they can to protect Hillary Clinton.
Remember, John Podesta said Hillary has bad instincts. Bernie Sanders says she has bad judgment.
Hillary created an illegal email server to shield her criminal activity – and then she illegally destroyed 33,000 emails after receiving a Congressional Subpoena, and made 13 phones disappear, some with a hammer.
If she were to win, it would create an unprecedented constitutional crisis.
If she ever got into the Oval Office, Hillary and her special interests would rob this country blind.
My Contract With The American Voter begins with a plan to end government corruption – and to take back our country from the special interests.
I want the entire corrupt Washington establishment to hear the words we are all about to say. When we win on November 8th, We Are Going To DRAIN THE SWAMP.
At the core of my contract is my plan to bring back our jobs.
Florida has lost 1 in 4 of its manufacturing jobs since NAFTA – a deal signed by Bill Clinton and supported by Hillary Clinton.
America has lost 70,000 factories since China entered the World Trade Organization – another Bill and Hillary-backed deal.
We are living through the greatest jobs theft in the history of the world.
-Goodrich Lighting Systems laid off 255 workers and moved their jobs to India.
-Baxter Healthcare Corporation laid off 199 workers and moved their jobs to Singapore.
-Essilor Laboratories laid off 181 workers and moved their jobs to Mexico.
A Trump Administration will stop the jobs from leaving America, and we will stop the jobs from leaving Florida. The theft of American prosperity will end.
If a company wants to fire their workers, leave Florida, move to another country, and then ship their products back into the United States, we will make them pay a 35% tax.
A Trump Administration will renegotiate NAFTA and, if we don't get the deal we want, we will terminate NAFTA and get a much better deal for our workers.
We will also immediately stop the job-killing Trans-Pacific Partnership.
As part of our plan to bring back jobs, we are going to lower taxes on American business from 35 percent to 15 percent.
We will massively cut taxes for the middle class.
We will also cancel billions in global warming payments to the United Nations, and use that money to invest in America. That includes repairing Florida's Herbert Hoover Dike and the Florida Aquifer, and protecting the Everglades.
We will also rebuild our inner cities.
We will become a rich nation once again.
But to be a rich nation, we must also be a safe nation.
Hillary wants a 550% increase in Syrian Refugees pouring into our country.
Her plan will import generations of terrorism, extremism and radicalism into your schools and communities.
When I'm elected President, we will suspend the Syrian Refugee Program – and we will keep Radical Islamic Terrorists out of our country.
A Trump Administration will also secure and defend the borders of the United States. And yes, we will build a great wall.
We've received the first-ever endorsement issued by America's ICE and Border Patrol officers.
It's just been reported that, as a result of our open borders, violent cartels have spread into all 50 states.
More than 90 percent of those arrested are here illegally. They are killing innocent Americans, threatening schools, and destroying communities.
A government that will not protect its people is a government that is unworthy to lead.
As Secretary of State, Hillary Clinton allowed thousands of the most dangerous and violent criminal aliens to go free because their home countries wouldn't take them back.
Hillary supports totally "open borders," and strongly supports Sanctuary Cities, like San Francisco, where Kate Steinle was murdered by an illegal immigrant deported 5 times.
Thousands of Americans would be alive today if not for the open border policies of Obama-Clinton.
This includes Americans like Josh Wilkerson, whose mother I have gotten to know during this campaign. Josh, a student in high school, was murdered at the age of 17. He was tortured, strangled and beaten to death by an illegal immigrant, and then his body was set on fire.
Last year, here in Florida, 17-year-old Starlett Pitts, her boyfriend, and her mother were viciously stabbed to death in their Lehigh Acres home by an illegal immigrant. The killer had been convicted of assaulting a police officer and was wanted for a double murder and robbery. But he was released from custody, enabling him to commit these horrible murders.
A Trump Administration will end this nightmare of violence.
We will protect American lives.
We will cancel all federal funding to Sanctuary Cities.
We will stop illegal immigration, deport every last criminal alien, and dismantle every criminal gang and cartel threatening our citizens.
When we win, you will finally have a government on YOUR side, fighting for YOUR community, and protecting YOUR family.
We will also repeal the Obama-Clinton defense sequester and rebuild our badly depleted military.
That means brand new modern aircraft for MacDill Air Force Base here in Tampa.
I'm honored to have the endorsement of more than 200 top Admirals and Generals and 22 Medal of Honor Recipients.
Hillary brought death and disaster to Iraq, Syria and Libya, she empowered Iran, and she unleashed ISIS across the world.
Hillary and our failed Establishment have spent $6 trillion dollars on wars in the Middle East, and now it's in worse shape than ever before.
They've dragged us into foreign wars that have made us less safe, shipped our jobs and wealth to other countries, and they've left our borders wide open at home.
We send our troops to foreign countries to defend THEIR borders, but our politicians refuse to defend OUR borders.
That will change on November 8th.
A Trump Administration will never, ever put the interests of a foreign country before the interests of our country. From now on, it's going to be AMERICA FIRST.
To all Americans I say: it is time for change. It is time for New Leadership.
Just think about what we can accomplish in the first 100 days of a Trump Administration –
We are going to have the biggest tax cut since Ronald Reagan; eliminate every unnecessary job-killing regulation; cancel every illegal Obama executive order; protect religious liberty; rebuild our military and take care of our Vets; provide school choice and put an end to common core; support the men and women of law enforcement; save the 2nd amendment; and appoint Justices to the Supreme Court who will uphold and defend the Constitution of the United States.
It is time to cut our ties with the failed politicians of the past.
Hillary Clinton is the candidate of yesterday. We are the movement of the future.
We are fighting for every parent who lost their child to drugs and crime and gang violence.
We are fighting for every community whose jobs and dreams have been ripped out and shipped to other countries.
And we are fighting for every American who believes government should serve the people – not the donors, and not the special interests.
I'm asking you to Dream Big – because with your vote, we are just 3 days away from the change you've been waiting for your entire life.
Together, We Will Make America Wealthy Again.
We Will Make America Strong Again.
We Will Make America Safe Again.
And We Will Make America Great Again.
---