NY
GOP
Chair
Ed
Cox
endorses
Donald
Trump
04/21/2016
| | |
| --- | --- |
| | "As a newcomer to elected office, Donald Trump has shown remarkable political skill that has energized Americans who have felt disenfranchised by a government that hasn't worked for them," Cox said in a statement. "He has a record of cutting through bureaucratic dysfunction and his message to 'Make America Great Again' is exactly what we need after two failed terms of President Obama." |
---
NY GOP Chair Ed Cox endorses Donald Trump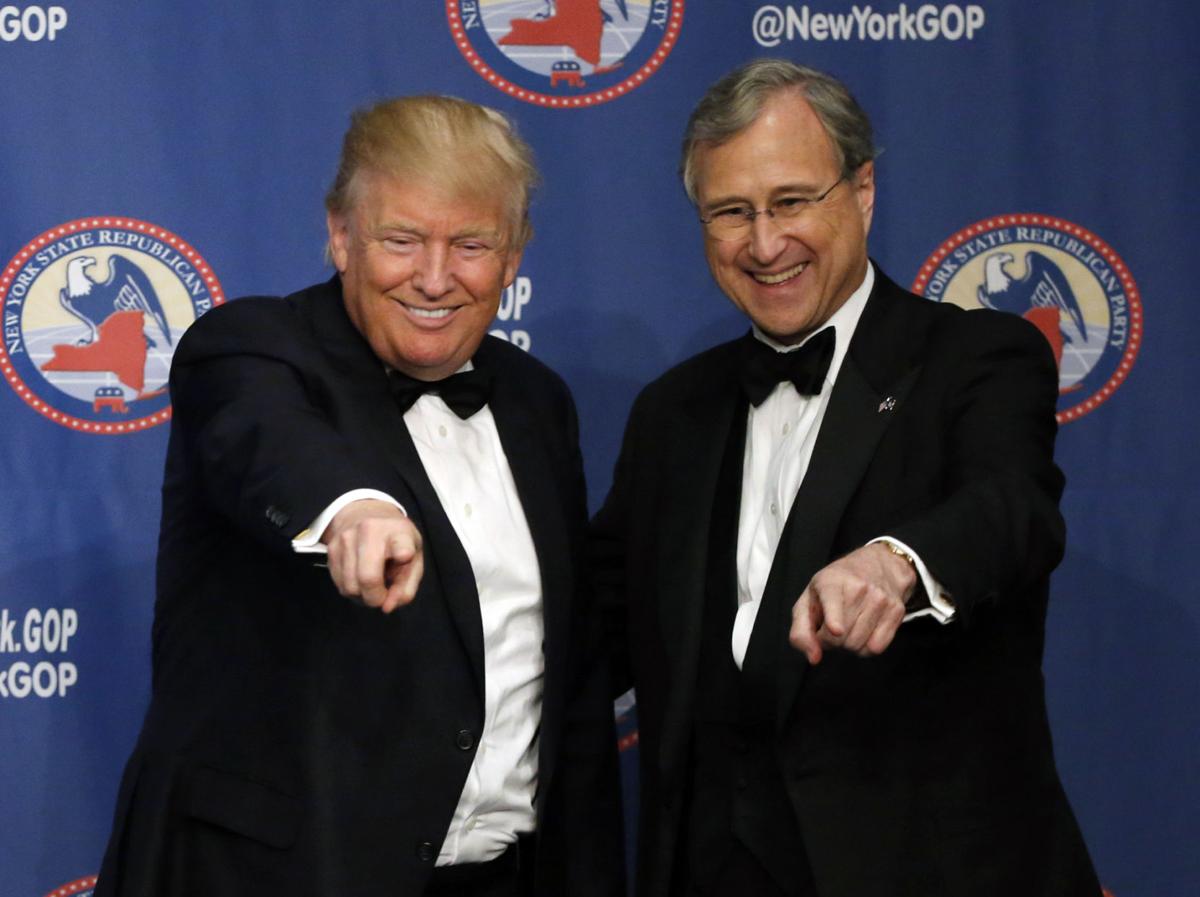 Republican presidential candidate Donald Trump, left, points to the crowd with New York State Republican Chairman Edward F. Cox after speaking during the New York Republican State Committee Annual Gala Thursday, April 14, 2016, in New York. (AP Photo/Kathy Willens)
Albany - State Republican Chairman Ed Cox endorsed Donald Trump for president on Thursday, two days after the Manhattan business man won a resounding victory in the state's GOP primary.
"As a newcomer to elected office, Donald Trump has shown remarkable political skill that has energized Americans who have felt disenfranchised by a government that hasn't worked for them," Cox said in a statement. "He has a record of cutting through bureaucratic dysfunction and his message to 'Make America Great Again' is exactly what we need after two failed terms of President Obama."
Trump won in nearly every county on Tuesday, scoring 60 percent of the vote to Ohio Gov. John Kasich's 15 percent and U.S. Ted Cruz's 15 percent. Trump won at least 89 of the state's 95 delegates. Kasich, who won Trump's home county, took four, while Cruz took none.
Trump already had the backing of a handful of influential county Republican chairs in New York, including Onondaga County Chairman Tom Dadey, Erie County Chairman Nick Langworthy, Nassau County Chairman Joe Mondello and Suffolk County Chairman John Jay LaValle
While he is endorsing Trump for president, Cox is said to have been the obstacle for Trump in running for governor against Gov. Andrew Cuomo in 2014. Some Trump surrogates, such as Buffalo businessman and former gubernatorial candidate Carl Paladino, have remained vehemently critical of Cox.
Paladino was more welcoming on Thursday.
"In the wake of Donald Trump's complete domination of the recent New York primary, I welcome New York Republican Party Chairman Ed Cox aboard the Trump train," he said in a statement.
Trump also picked up the endorsement of New York Republican National Committeewoman Jennifer Saul-Rich on Thursday.
This email address is being protected from spambots. You need JavaScript enabled to view it. • 518-454-5449 • @matt_hamilton10
---